Cat S60 rugged smartphone has integrated thermal camera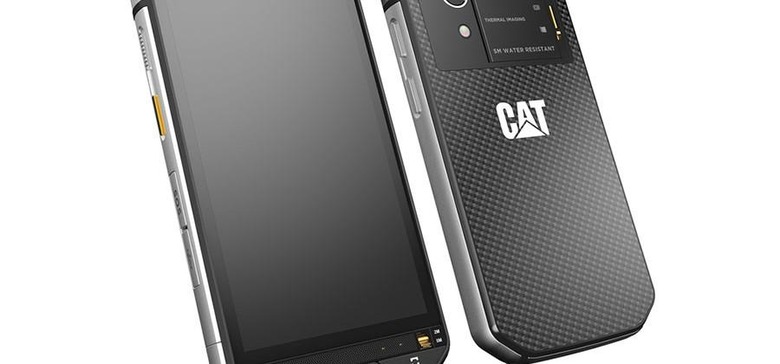 At MWC Cat will be showing off a new smartphone that is rugged like all of its devices are. A rugged design isn't all the smartphone will offer, it will also be packing a Flir thermal imaging camera. Cat also claims that the S60 will have the first waterproof rating in the industry certifying the phone to last at depths up to 5 meters for up to an hour.
The S60 integrates something similar to the Flir standalone thermal camera into the reasonably thin body of the smartphone. The thermal image sensor can produce live thermal images, measure surface temperatures, and take still shots and video. The camera has low resolution at only up to 640 x 480. Cat figures the camera might be good for rescue missions where people could be hidden in smoke or fog and for checking tire temperatures.
The cool thermal camera appears to be the main draw for the S60 other features are very mainstream. It has Android Marshmallow for the OS, uses a Snapdragon 617 chip and has 3GB of RAM. It does offer a 12MP standard camera on back and a 5MP front camera. To get the benefit of the full water resistance you have to close the yellow covers over the mic and earpiece. If you leave those open it can only survive to 2 meter depths.
Internal storage is 32GB and is expandable, power from a 3800 mAh battery. The screen is a 4.7-inch unit with 720p resolution with 500 nits brightness. That screen will work with wet fingers and when wearing gloves. The screen is protected with 1mm thick Gorilla Glass 4, nearly twice as thick as typical Gorilla Glass layers. This allows the phone to survive drops from up to 1.8 meters high. The Cat S60 will launch at the end of May priced at $599.
SOURCE: The Verge