Casio Enabled EXILIM's Dynamic Photo Function Video Service In Japan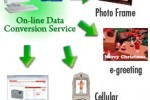 Casio has previously launched a promote web site to detail its Dynamic Photo function that enabling photo doctoring on-the-fly, a simple function that can extract moving subject, for up to 20 consecutive images, then superimpose into a background of your choice. A free online web service that offers video conversion for a variety of movie data is now available at its Japanese site.
The new feature looks fairly simple to operate – Select the "Dynamic Shoot" function to capture images with subject against a background, and another with the background without the subject. The camera will automatically extract subject from the background, create a cut out moving subject to be placed into a variety of backgrounds during playback. The placement of the subject can be easily adjusted to match the scene of the background. Also, you can select one or up to twenty moving frames for each task. An online data conversion service, available at no extra cost, will further optimize the resulting motion image for the uses of digital media devices or formats such as photo frame, e-greeting, auction or mobile phone.
The service for US site is still listed at "coming soon" but the Japanese version is up and running now according to Impress.
The web service supports OSX and Windows platforms browsers from IE6/7, Firefox 2/3 and safari 3, and require flash player 9 installed. Mobile phones formats are available from 3GPP, 3GPP2 addition, FLV, MPEG-1, MOV, MPEG-4 and animated GIF. User has options to choose video qualities, bit rate and frame rate. A 16 seconds video is reported taken about one minute to convert and can be stored online for up to 30 days for streaming or sharing purposes.
The Casio EXILIM EX- Z400, EX-Z270, and EX-S12 are available this March, and have suggested retails of $299.99, $229.99 and $249.99, respectively.