Carrying a Torch for RIM - the Gartenberg Take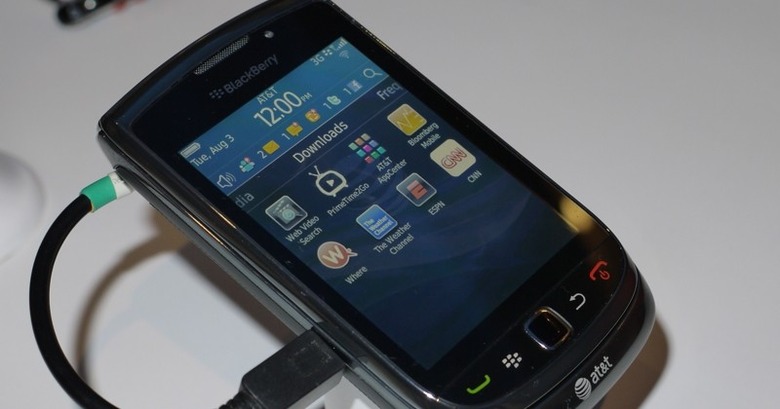 This was a momentous week for RIM. They announced the new BlackBerry Torch a capacitive touch screen slider along with the latest version of their platform, BlackBerry 6. In a year where phones and platforms are changing dramatically, will this be enough for RIM to slow down market share loss and help win the hearts and minds of consumers that may be looking elsewhere for additional functionality beyond what RIM has traditionally provided?
While RIM met the bar, they didn't do much to raise it higher or push the envelope in either hardware or software design. In world where every vendor is working to up their game, raise the bar and drive new innovation in hardware and software, it felt RIM barely stepped up. Among the things I'd have liked to seen would be a widget architecture for glanceable information, a front facing camera for video conferencing (which I expect to be table-stakes on leading edge devices by year end), hotspot capabilities, and a much larger and higher-res screen.
I spent some hands on time with the device this morning but haven't had the chance to fully put it through its paces. Consider this more of a hands-on first take than a formal review. First, the hardware. The Torch is going be immediately familiar as a BlackBerry, albeit without a visible keyboard. Fortunately, RIM has shelved SurePress, the input mechanism for the BlackBerry Storm and Storm 2 in favor of a vertical slider. The screen slides up smoothly and quickly to reveal a standard BlackBerry keyboard. It's nicely balanced and feels good. The screen looks a little on the small side compared to devices like the Samsung Galaxy S, the HTC EVO or the Motorola DROID X. It also feels lacking in resolution next to the iPhone 4. In short, the hardware is nice but it's not pushing the bar in a major way.
Tied closely to the Torch is the platform it runs on, BlackBerry 6. There were a few key features touted at the event this morning. First, universal search. You can search anything on the device as well as get information from the cloud as well; it works as soon as you start typing. There's a universal inbox that not only aggregates your email but your social networks as well. Drill into the message, Twitter for example, and then that message will get out of the way in your inbox. It's a good way to balance the desire for integration and making sure the inbox stays usable.
BlackBerry Torch 9800 hands-on:
On the media side, photos can be managed on the device with folders and are geo-tagged with the actual place location. Media now has album art and can be synced via WiFi. There's also a revamped home screen that allows for more customizations (and sadly comes pre-populated by apps selected by AT&T) along with a very nice detailed notification screen. Finally, perhaps noticing how far behind their users are when it comes to mobile browsing, there's a webkit browser. In short, BlackBerry 6 offers table-stakes functions. Everything they showed for the most part already exists on other devices or is on the way.
If you're wondering about security, manageability or other Enterprise IT features, well, they may be there but there was no word from RIM about them onstage. All the features shown, along with their new commercials previewed, were aimed directly at the consumer, not the business user. BlackBerry has always been known for instant access push email and the ability to seamlessly sync my inbox on the go with my corporate mail. Combined with the recent viral growth of BlackBerry Messenger, I was surprised that RIM didn't mention either of them on stage with the Torch.
According to RIM, this is the best BlackBerry ever and I don't dispute that. Users who require a Blackberry for work standards will find the Torch the object of their desire. The question is, will the Torch be bright enough to lure users away from the latest and greatest Android devices, iPhone 4 and a newly re-invigorated Microsoft Windows Phone 7? At the moment, if you're a diehard BlackBerry user, there's a lot to love but in terms of the state of the art, RIM hasn't quite caught up to the leaders of the pack in terms of either device or platform. Was this the right move for RIM? I think it was the move RIM needed to make to at least be on par with most of the features we've seen in modern mobile platforms, even if they weren't the first ones there. With the foundations in place, what RIM needs to do now is move quickly to raise the bar even further with more compelling hardware and software features; not merely be satisfied following the leaders but once again taking the pole position.