Carbonite Han Solo Fridge keeps your beverages chilled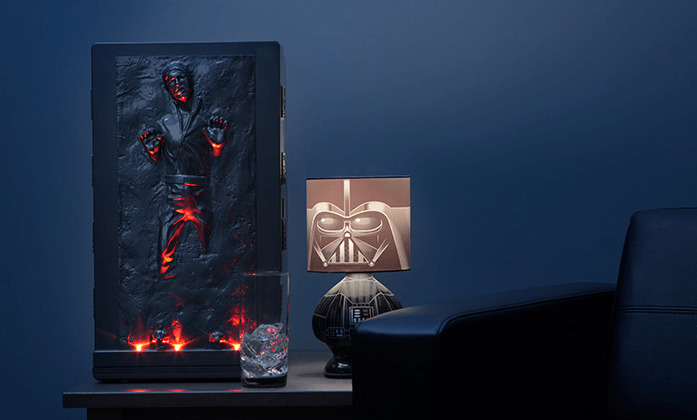 We have seen a lot of Star Wars gear over the years, including that X-Wing kitchen knife set and a snazzy Death Star rug for your living room. There's now another Star Wars item to fancy up your home, and it comes in the form of a mini fridge — the Han Solo Carbonite Fridge, to be exact. This is a metallic-looking miniature refrigerator featuring an encased — and glowing — Han Solo, with a litany of tasty beverages tucked safely away inside.
The mini fridge is up for sale now at ThinkGeek, where it is priced at $149.99 USD. It is officially licensed and includes red LEDs that can be toggled on and off for the glowing effect in the front. There's a handle on top for toting it around, and the ability to hold up to 18 soda cans (there are little shelves, too, for holding dishes).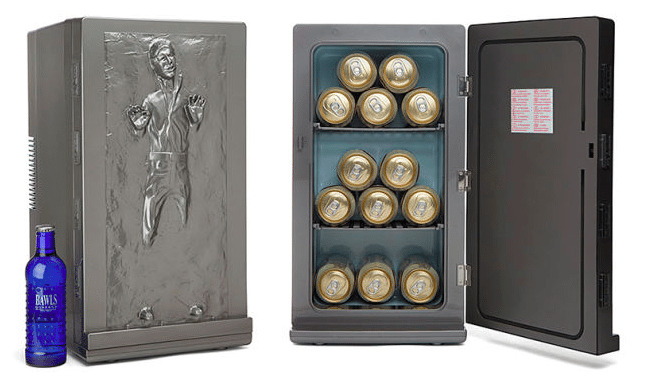 The bottom features small rubber feat; there's also a "warm" setting to complement the cool setting, allowing the device to be used as a giant thermos for keeping your food warm or a tiny fridge for keeping your drinks cold. The door can be locked (in terms of avoiding spillage, not keeping people out). The temps can go down to 32F, and up to 149F.
Overall the Carbonite fridge measures in at 19-inches in height, 10.75-inches in width, and 10.75-inches in depth (internal measurements are smaller); it weighs a little under 10lbs. Shipping is only available to those in the United States and Canada.
Check it: SlashGear's Star Wars tag portal!
SOURCE: Gizmodo