Canon unveiled TS-E 17mm F4L / TS-E 24mm F/3.5L II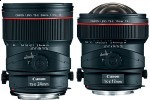 Architecture and wide landscape photographers take note, Canon has announced a pair of tilt and shift lenses, TS-E 24mm f/3.5L II and an ultra-wide TS-E 17mm f/4L today. These two new lenses features new barrel design, UD glass, specially coated aspherical elements, and Canon's latest SWC to have better control over the positioning of the focal plane while keeping optics distortion at minimum.
The new TS-E 24mm F3.5 II replaced the 18 years old TS-E 24mm F3.5L, arguably one of the least sharpest Tilt-Shift member compares to the non-L 45 and 90mm TS-E family, thus, the announcement doesn't surprised us like the 17mm. The latter offers the world's widest 35mm format angle of view currently available!, just wishing it was one stop faster.
Both are shipping from April, but we have no words on pricing.
[via dpr]