Canon Selphy ES3 & ES30 Portable Digital Photo Printers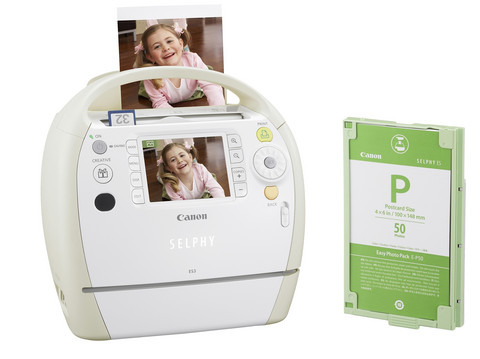 Canon has announced two new portable digital photo printers in their Selphy range, the ES3 and the cheaper ES30.  Each has a built-in 15-in-1 memory card reader, are PictBridge compatible, use integrated ink & paper cartridges and have an LCD preview screen: 3.5-inches with wide-angle viewing on the ES3, 3-inches on the ES30.  The ES3 also gains 1GB of onboard storage, to allow regularly accessed images to be kept on the printer itself.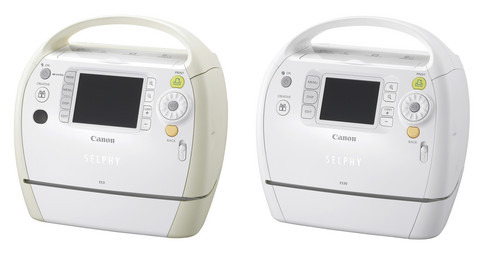 Both printers have a range of frame, clip-art and calendar templates that can be added on-device to images before printing.  The ES3 has a choice of 47 frames and 28 clip-art items, while the ES30 has 18 frames and 10 clip-art items; both have a choice of 12 calendar layouts.  An Image Optimizer function can automatically correct exposure and adjust image brightness, contrast and sharpness.
Neither is battery powered, but the AC adapter is built into the body of the printer so a simple power cable is all that's required.  The Canon Selphy ES3 and ES30 digital photo printers are available now, priced at $199.99 and $149.99 respectively.  Does anybody else think the design is vaguely reminiscent of medical equipment, a portable IV drip monitor maybe?
Press Release:
CANON U.S.A. ANNOUNCES TWO NEW SELPHY COMPACT PHOTO PRINTERS OFFERING A STYLISH DESIGN AND CREATIVE FLAIR

Creative Enhancements Allow Consumers To Personalize Those "Can't Miss" Moments

LAKE SUCCESS, N.Y., August 26, 2008 – Canon U.S.A., Inc. a leader in digital imaging, today announced two new additions to the popular SELPHY compact photo printer line: the SELPHY ES3 and SELPHY ES30. A first for a Canon compact photo printer, the SELPHY ES3 will now include one gigabyte of internal flash memory for storage of memorable photos. With significantly more creative options to embellish photos, digital photographers and scrapbookers will be able to customize their photos more than ever before using these new printers.

Featured in the new SELPHY ES3 Compact Photo Printer is the inclusion of internal flash memory which allows for images to be stored directly on the printer making sharing with friends and family even easier. Consumers will no longer have to worry about uploading images from a memory card each time and can print out up to 1000 memorable images on command.

Consumers will be able to choose from a variety of ways to customize and optimize their photos with significant advancements to the frame, clip art and calendar functions. A total of 47 frame templates are now included on the SELPHY ES3 and 18 on the SELPHY ES30 Compact Photo Printers. For parents who like to add clip art to their photos, there are 28 different types of colorful illustrations on the ES3 while there are 10 on the ES30, ranging from "Happy Birthday" cakes to musical notes. The number of layouts for the "Calendar" function has been increased to 12 and there are six different types of background colors as well. With the use of the Easy Scroll Wheel, setting changes can be made in the Creative Print function making it possible to preview the image with creative touches prior to printing.

"The popular SELPHY Compact Photo Printer line is known for its ease-of-use, high image quality and compact stylish design," said Yuichi Ishizuka, senior vice president and general manager, Consumer Imaging Group, Canon U.S.A. "The addition of these two new compact photo printers further solidifies and expands upon this with new features such as the internal memory on the SELPHY ES3 Compact Photo Printer and all of the new creative options."

A new wide-angle viewing 3.5-inch LCD monitor can be found on the Canon SELPHY ES3 while the SELPHY ES30 Compact Photo Printer comes equipped with a 3.0-inch high-resolution LCD monitor to make checking images in horizontal and vertical directions very easy to do. The Image Optimizer helps to automatically correct exposure and adjust the brightness, contrast and sharpness of the images to help ensure the images being printed come out their best.

Both the Canon SELPHY ES3 and SELPHY ES30 Compact Photo Printers have been designed with portability in mind. The newly designed carrying handle makes it easy for the printer to be carried from room to room. With the power adapter now being built into the printer's body, only the power cable needs to be connected to operate the printer. In addition to the integrated ink and paper cartridges found on previous SELPHY models, two new "Easy Photo Packs" are now available that can add a gold and/or silver effect on all your photographs. A variety of 15 types of memory cards are supported from Compact Flash to microSD cards, which can now be inserted without the use of an adaptor.1 PictBridge enabled digital cameras can be connected to these compact photo printers as well.

The estimated selling price of the SELPHY ES3 Compact Photo Printer is $199.99, and $149.99 for the SELPHY ES30 Compact Photo Printer.