Canon Outs New Pixma Pro-1 Printer For Photographers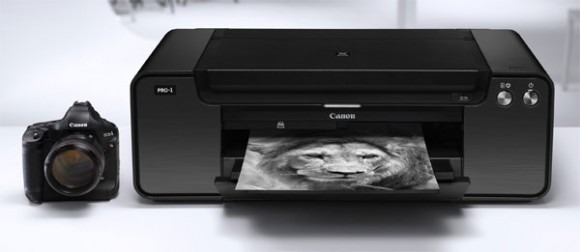 Canon has announced a new printer that is designed to go along with its pro level DSLR cameras. The new printer is called the Pixma Pro-1 and is the first A3+ printer to use 12 separate inks. The high-end model has a design that was inspired by the EOS cameras and has the highest possible print quality in monochrome and color.
The 12-color ink system offers a larger color gamut and the printer also has a new Chroma Optimizer for increased black levels. The inks are Lucia pigment inks for increased permanence. That permanence allows prints to be sold or exhibited without worrying they will fade over time. The printer supports 1200ppi input resolution and prints with resolution up to 4800 x 2400 dpi.
The print head is a Canon FINE unit with 12,288 nozzles. The printer also has an OIG system for color reproduction. The printer needs 2 minutes and 55 seconds to print a gallery quality image. The paper tray can handle up to 14-inch wide photo paper and heavy fine art paper. Pricing and availability on the printer is unknown. You can see more about the printer in the video below.