Callpod Drone USB Bluetooth adapter introduced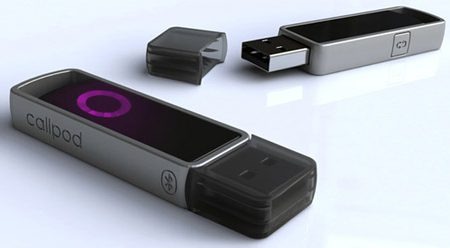 Callpod has added another plug-and-play device to their line up. It's called the Drone and it is a Bluetooth 2.0 adapter that's sure to add a whole new level of functionality to your computing experiences. Not to mention, the little device is pretty nice looking.
The Drone reportedly has a range of up to 100-meters, giving you a pretty good level of connectability. If you happen to be listening to music or using audio in some other fashion, it will automatically switch over to voice whenever a VoIP call comes in.
You can play music over the device from many sources including iTunes, WMP, CDs and other PMPs. This is because the Drone supports A2DP and AVRCP profiles. Software is included that makes more advanced functions possible, including Bluetooth data transfer to external devices like printers. But for your basic Bluetooth functions, you don't need this software. You can get the Callpod Drone now for $50.