Call of Duty: Mobile's big zombie mode update arrives today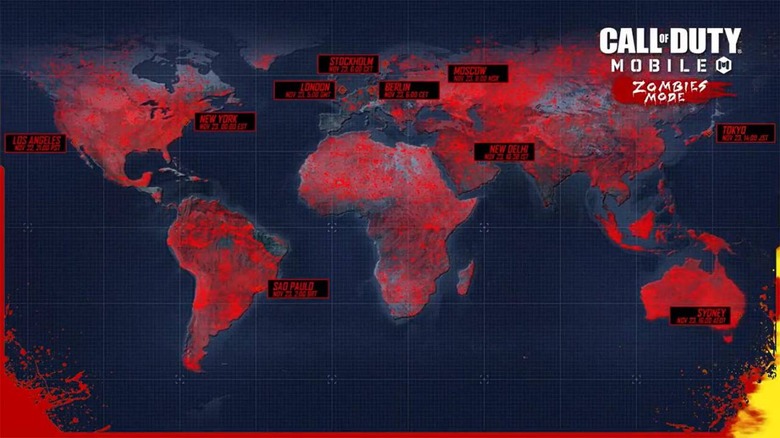 Zombies have been a popular inclusion in many Call of Duty games for years, making their absence from the mobile version these last few months particularly disappointing. Things have finally changed, however, with the upcoming release of the game's latest update. Starting later today, players will finally have access to the zombies game mode on Android and iOS.
Activision first teased the arrival of zombies in the Call of Duty: Mobile game via a tweet on November 21, stating only that the zombies were 'coming...' A bit of confusion about when the update would arrive left some players disappointed, however; it seems it didn't arrive on November 21 as some expected, but will instead drop in just a few hours.
The horde is coming...#CODMobile pic.twitter.com/J36N6b9Guh

— Call of Duty: Mobile (@PlayCODMobile) November 21, 2019
In a comment on the Call of Duty: Mobile subreddit, an Activision employee stated that the update bringing the zombies mode will go live at 9PM PT tonight, which is midnight in the Eastern time zone. The full release times can be found below:
- Los Angeles: Nov 22 – 21:00 PST
- New York: Nov 23 – 00:00 EST
- Sao Paulo: Nov 23 – 2:00 BRT
- London: Nov 23- 5:00 GMT
- Stockholm: Nov 23 – 6:00 CET
- Berlin: Nov 23 – 6:00 CET
- Moscow: Nov 23 – 8:00 MSK
- New Delhi: Nov 23 – 10:30 IST
- Sydney: Nov 23 – 16:00 AEDT
- Tokyo: Nov 23 – 14:00 JST
The game is free to download on Android and iOS — you'll probably want to use a tablet unless you have a high-end smartphone, otherwise the graphics quality will be low and choppy. The experience is very similar to what players get on consoles, plus the touchscreen controls are surprisingly capable for the times you're not using a controller.