Call of Duty: Infinite Warfare multiplayer trailers released as beta details surface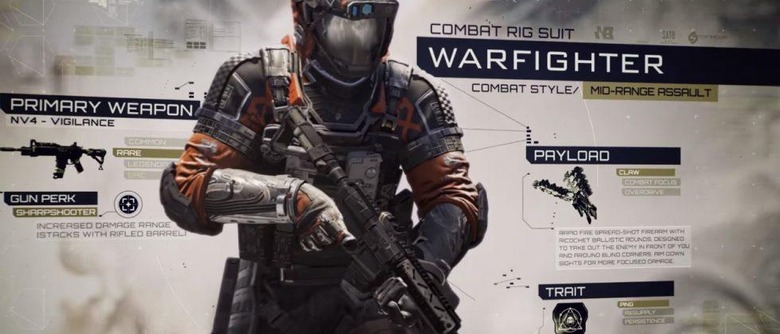 Activision has launched new multiplayer-centric videos for the latest entry in the Call of Duty franchise, Infinite Warfare, while at the same unleashing a few details on when we can expect the multiplayer beta to take place. Just like Black Ops III before it, this beta will be exclusive to PlayStation 4 owners at first, eventually unlocking for Xbox One players at some later, undetermined point.Infinite Warfare is getting two videos focused on multiplayer today. The first is a relatively simple trailer, giving us a glimpse at some of the game's Combat Rigs, which make for something of a class system in Infinite Warfare, as well as some in-game footage of multiplayer action. Check out that one below:
The second video is a fair bit longer, explaining the Combat Rigs and loadout system in further depth. Beyond that, the video spends a good amount of time explaining the Infinite Warfare's new crafting system, which allows players to earn weapon perks and customize both their primary and secondary weapons as they play the game. As the trailer briefly touches on the future-themed technology players will be able to use, the maps they'll fight on, and the modes they'll participate in, it becomes clear that customization is a pretty major focus of Infinite Warfare.
At the end of both videos, we're told that pre-ordering the game will unlock the multiplayer beta, which begins on October 14 for PS4 players. There's a lot that's still unclear about the beta, such as when it will go live for Xbox One owners and if pre-ordering is the only way to get in on the test. Also unknown is whether or not PC players will be able to participate at all, as there's been no indication that the test will come to that platform.
All in all, Infinite Warfare seems like it'll do its part to shake up the Call of Duty formula, but it's going to have some stiff competition, as EA's Battlefield 1 and Titanfall 2 will be launching around the same time. One thing's for sure, though: if you're a fan of first-person shooters, it's going to be an interesting autumn. Call of Duty: Infinite Warfare launches for Xbox One, PS4, and PC on November 4.