Cables To Go boosts wireless USB range to 150 feet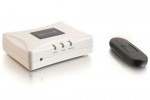 Wireless USB is a great bit of technology that not only allows us to shed some of the cables running between computers and peripherals, but allows us to move gear further from your computers and still get connectivity. Cables To Go has announced that it now has a Wireless USB Superbooster Extender that allows connectivity for up to 150 feet.
The device allows a user to place gear like printers, scanners, cameras, or interactive whiteboards up to 150 feet from their PC or laptop and still have complete access to the device. Cables To Go even says that the remote item connected to the extender can be accessed from another floor or room.
That would mean at home you could put a printer up stairs for the office and still be able to print to it when working downstairs. The adapter would also be a great way for schools to allow multiple rooms to share expensive scanners. The Wireless USB Superbooster Extended is available now for $189.99.