Build Your Own Christmas Stocking Gift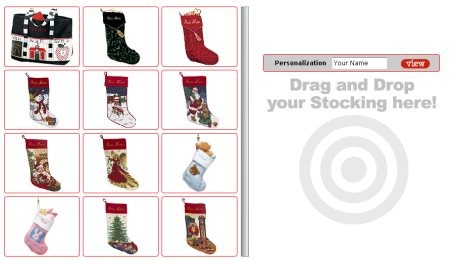 With just three weeks left to go your shopping time is getting shorter and shorter. If you're like me, you had half your gifts bought two months ago, if not you're in need of a quick fix gift and you're in lucky because I know of one.
Lillian Vernon knows how hard it can be to find a gift on short notice and how hard it is to be sure that gift has a personal touch when you're on the wire. Her website, build-a-stocking.com is just the thing for you. With over a dozen handmade Christmas stockings and totes to choose from, you're sure to find the perfect choice for your recipient. The best part of these stockings is that they are personalized so you're sure to show that you were thinking just of that person when you picked out this present. The stockings are just the first part of the gift, however. You can also choose from a vast array of different, personalized, gifts to go inside your stocking. There are gifts for every type of person and you will find just what you need.
The personalization comes free with your stocking purchase for both the stocking and the gifts. I highly suggest you check it out, I can't imagine anyone would be disappointed with such a personalized (thoughtful) gift!
Build Your Own Christmas Stocking [via Coolest Gadgets]