Bugatti Baby returns in a larger 3D-printed Type 35 body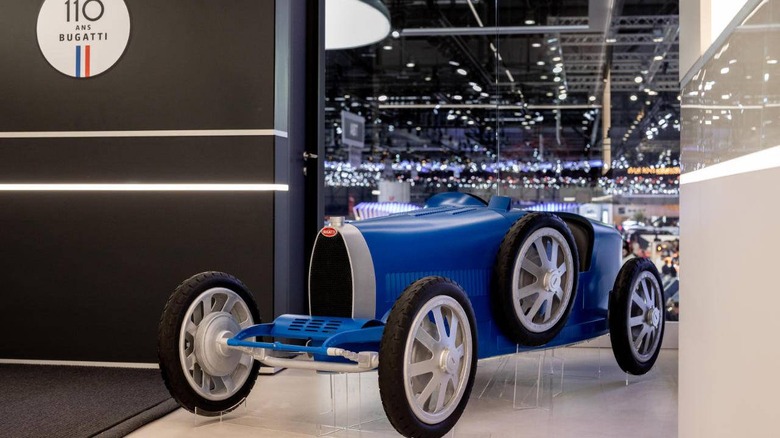 We see quite a few "miniature" model of iconic cars being made available for children to drive but that practice isn't a modern invention. More than a century ago, Bugatti made a half scale model of the historic Type 35 racing car for his four-year-old son. The car became so popular that the Bugatti Baby became one of the first limited edition miniature cars in history. To celebrate the company's 110th anniversary Bugatti is bringing the Baby back, this time with more than a few modern features for good measure.
Even those not familiar with the car might be familiar with the Bugatti Type 35's iconic design. The company boasts of the car's unparalleled racing history, having won 2,000 races during the 1920s. While the Bugatti Baby II won't be running races, for safety purposes, it will give both kids and adults a like a taste of history.
The Bugatti Baby II stays true to the design of the original despite using modern materials and manufacturing processes to make it. The cockpit features a turned aluminum dashboard, a leather seat, and the distinctive four-spoke steering wheel found in the original version. The eight-spoke aluminum alloy wheels also faithfully recreates the original though scale down. The small car even comes as a rear-wheel-drive battery-powered electric powertrain just like the first Baby.
Of course, times have changed and the Bugatti Baby II uses removable lithium-ion battery packs inside. It even features regenerative breaking you'd find in cars these days. There are two power modes available, including a 20 km/h 1 kW "child mode" and a 45 km/h 4 kW "adult mode". And if that weren't enough, there's an optional Speed Key upgrade that disengages speed limits and cranks up the power up to 10 kW.
And, yes, the Bugatti Baby II isn't just for the young. While the first Baby was made at half the scale of the Type 35, the Baby II is a three-quarters replica to let adults enjoy it as well. The Bugatti Baby II will start production in Fall this year and will cost 30,000 EUR ($33,780) for starters. And just like the first Bugatti Baby, only 500 such scale replicas will be made.