Buffalo debuts Blu-ray USB 3.0 optical drive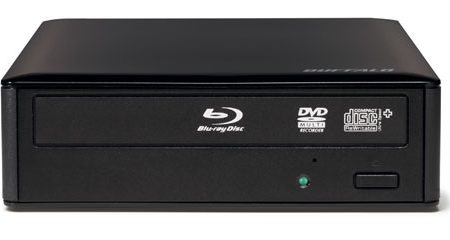 If you have a computer with a USB 3.0 port and need a Blu-ray drive without having to crack open the case to install one Buffalo has a new product for you. The new product is the Buffalo USB 3.0 Blu-ray drive. The optical drive can play Blu-ray discs and will burn to Blu-ray writable media all from a USB 3.0 port.
The drive has 12 times speed for writing discs and supports writing to CD and DVD media in addition to Blu-ray. Buffalo says that the writer can burn up to 50GB onto a single Blu-ray disc and it can be used to convert normal movies to 3D and make video files into HD quality.
The drive ships with CyberLink Media Suite Software for burning discs and the drive is compatible with USB 2.0 ports as well. Buffalo will ship the Blu-ray drive in September for £199.99 in the UK. Exactly when the drive will make it to the US is unknown.