Bruno Smart Trash Can Has Built-In Vacuum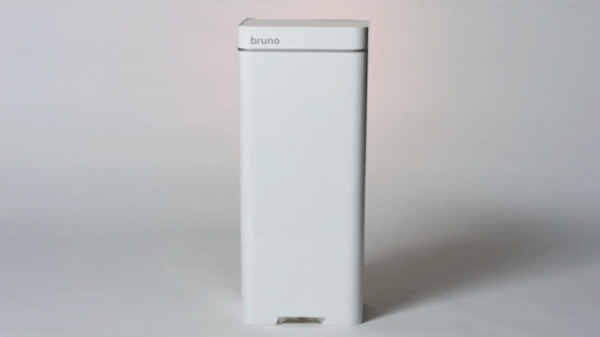 There's a certain pattern to cleaning the kitchen, and some of the last two steps including taking the trash out and sweeping up the floor. While the need to heft the bag of garbage out to the dumpster hasn't yet been eliminated, the folks behind Bruno are pining to make the dust pan obsolete. Bruno is bid as a smart trash can, and it is notable for one big reason: it has a small slot in the bottom equipped with a vacuum, allowing the user to sweep debris directly into the can using a broom, no bending over or dust pan needed.
Bruno, though being hailed a smart trash can, retains a modest, nearly conservative design, meaning it won't stand out as being greatly different from a regular trash can. When needed, however, the user can sweep debris into a vortex vacuum where it will go directly into the garbage. The can will be offered in five colors: Urban Red, Harbor Blue, Stainless, Slate Gray, and Arctic White.
As expected given its designation as a "smart" trash can, Bruno also features a mobile app that'll do things like remind the owner when it is trash day and alert when more bags are needed. Both Android and iOS apps are available.
Poubelle, the company behind the Bruno smart can, is seeking $50,000 USD on Kickstarter, where they have thus far raised $39,376 USD in funding with a little over a month remaining. The "Early Early Bird" units are no longer available, but those interested can pledge $149 USD to get the "Early Bird" unit, which is set to ship in October of this year. The eventual retail price is pegged at $229 USD.
SOURCE: Kickstarter