Browser power test shows Microsoft Edge only marginally better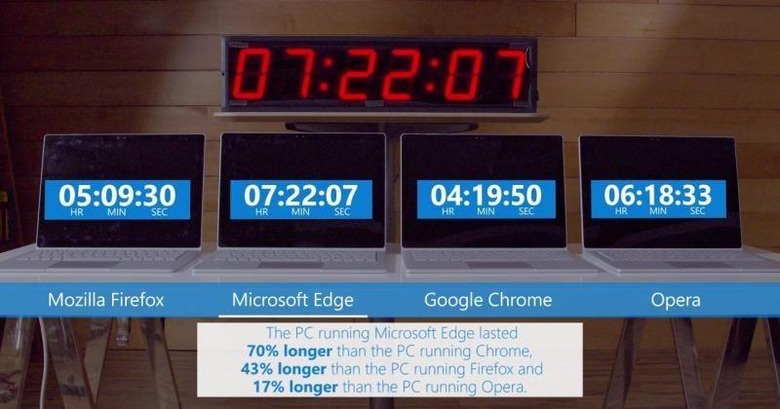 Microsoft took the gloves off when it claimed that its Edge web browser outperformed the competition in terms of power efficiency. While Google and Mozilla have yet to make official counterclaims, Opera published a post showing that, at least with Power Saving enabled, its browser actually tops the rest. So which one is telling the truth? PCWorld conducts its own test and discovers that, while Microsoft did have an edge over the others, its results arent's as dramatic as either claim them to be.
Each of these tests claim to be more or less scientific in their approach, which, of course, would be puzzling considering the discrepancy in results. For its own tests, PCWorld utilized EMBC's BrowsingBench Linux-based test that takes out the randomness of the Internet from the equation and serves up more reproducible conditions to keep the tests consistent and fair. For the browsers, it tested both Microsoft's Edge and Internet Explorer 11, Chrome 50, Firefox 46, and Opera 37, the one without power saving, all of them set to use Flash (21.0.0). And the end results? Surprising, but what you might not have expected.
Microsoft Edge did actually end up lasting more than the others, but not by a wide margin. It lasted 385 minutes, which was just 30 minutes longer than the second place. It might shock many but that 2nd spot actually belonged to Chrome, with 355 minutes under its belt. Chrome is generally criticized for being a power and resource hog, so this outcome isn't what most probably expected. Amusingly, Microsoft also has the worst performing browser, with the Internet Explorer truly living up to its notoriety.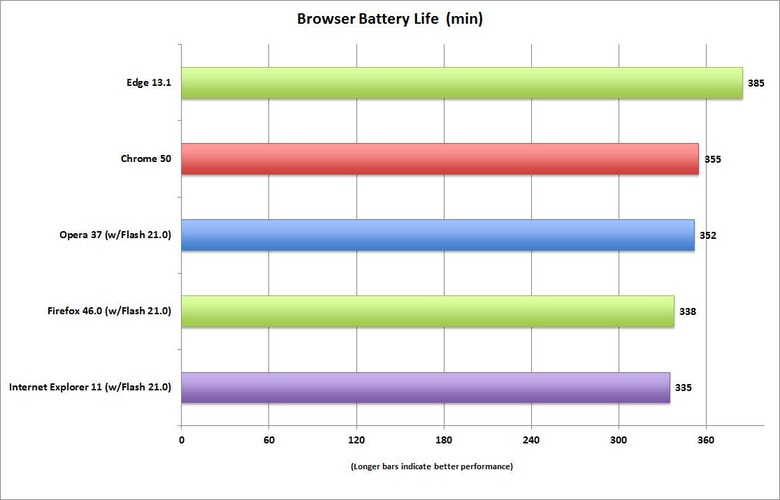 What this test reveals is how difficult it really is to test browsers in terms of actual usage, mostly because of the fluctuating nature of the Internet. One can only do so much to limit tests to certain conditions, but it won't be reflecting real world use anymore. Also, the end results might not be as exponentially different as browser makers might claim them to be. Then again, sometimes even just 30 minutes of more battery life can mean a lot for users.
SOURCE: PCWorld