Brother Industry debuts 9.7-inch E-paper in Japan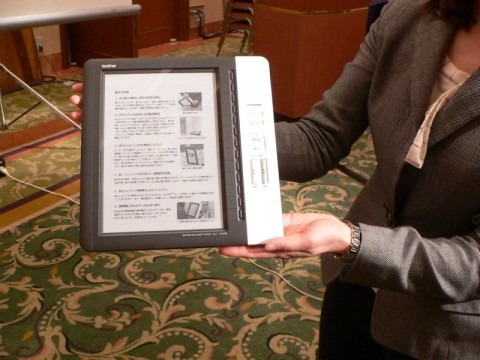 Brother Industries in Japan has today released a 9.7-inch E-paper document viewer with 1200x825 pixel resolution display and viewing area much larger than the size of Amazon's Kindle 2. But unlike the Kindle sequel, the Brother's SV-100B E-paper is tailored to business class users with equivalent paper size of A5.
The SV-100B E-paper measures at 15.5mm in thickness and reads electronic documents via a proprietary application that converts data from PC to a "printed" document format that's compatible with the device. The documents can be stored and secured in a 2Gb microSD card with a 128-bit AES encryption and password protected locking security feature. It provides roughly about 10,000 sheets of A4-size documents, and the lithium-ion battery life lasts up to 83 hours or 5,000 pages at the reading rate of 1 page per minute.
The Brother's SV-100B E-paper will deliver in Japan on June 1st, and will be sold though company's online store at ¥139,800 (~ US$1,423).