Brookstone shows off Big Blue Media Tower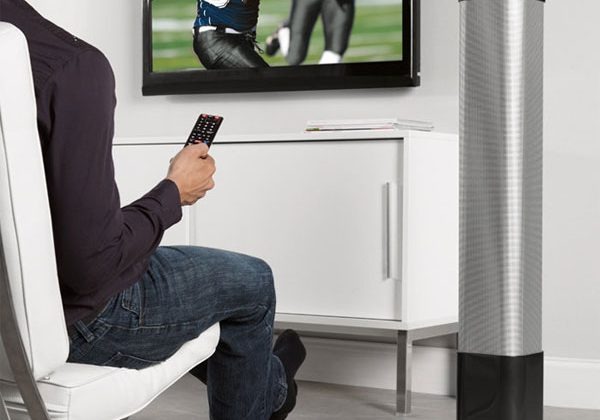 Brookstone is showing off a new audio product that is designed to stream audio from multiple sources. The audio product is called the Big Blue Media Tower all-in-one music and TV sound system. The tower stands 38-inches tall and is a vertical sound bar designed to be positioned anywhere in the room and offer three-dimensional concert hall sound.
The Big Blue Media Power can be had with integrated Bluetooth allowing for wirelessly streamed music and audio from any Bluetooth enabled smart phone, computer, or tablet. The device can also be connected to TVs or stereos that don't have integrated Bluetooth using RCA inputs. The RCA cables needed for connecting to your TV are included.
The speaker measures 38 1/8 x 8 x 8-inches and has an auxiliary output. Inside the tall black and silver case are a pair of 20-watt full-range stereo speakers featuring 1.5-inch tweeters and 3-inch mid-range drivers. The speakers are offset to provide room filling sound. The speaker also has a 30-watt powered subwoofer that is ported for omnidirectional bass.
The Big Blue Media Tower will ship on December 5 at price $399.99. It will be available both online and in Brookstone stores. The speaker weighs approximately 22 pounds.