Broadcom's new BCM21654 baseband processor for Android debuts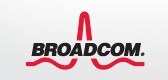 When it comes to smartphones running Android or any other OS as the components inside the phone get cheaper the price of the handset overall gets lower as well. Broadcom has announced a new baseband chip for Android devices that promises nice features and low cost.
The new baseband processor is the BCM21654 HSPA processor and it has an ARM Cortex A9 processor inside with support for high-end 3D graphics. The baseband is aimed at lower cost mass market Android smartphones. Other features of the processor include 40nm construction and support for Android 2.3.
The processor also supports 3G HSPA modem at 7.2Mbps and Class 32 EDGE support for flexibility. The chip will support dual SIM cards and 30fps video playback with H.264 format and more. The processor has 12MP camera support and supports 16M colors as well.