Broadcom licenses ARM Cortex-A9 processor tech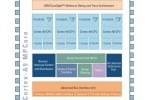 Broadcom is set to start to integrate the new ARM Coretex-A9 MPCore multicore processor into next generation mobile wireless and other consumer electronic products. Broadcom and ARM have announced that they have entered into a license agreement that will allow the use of the Cortex-A9 processor in Broadcom products.
In addition to the A9 processor, the license agreement will include the ARM NEON SIMD technology for the ARM Cortex-A series processors. The technology accelerates advanced, feature rich gaming, and compute intensive applications.
The ARM Cortex-A9 processor is a very powerful CPU that offers more performance than current chips in mobile devices while consuming less power. The A9 can contain up to four cores and can deliver 10,000 aggregate DMIPS when clocked at 1GHz.