Broadcom announces new BCM2074x SoC solution for better Bluetooth headsets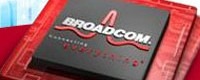 One of the worst things about Bluetooth headsets to me is that the devices take too long to charge and don't offer enough run time to go for days. Those two caveats may soon change with a new Broadcom solution for Bluetooth headsets that promises huge improvements in charging time and talk time.
Broadcom has announced its new ROM-based 65nm BCM2074x family of Bluetooth headset SoC solutions. The big claims from the new solutions is that they can double talk time and allow headsets to recharge five times faster than current products.
The SoC solution also offers integrated multilingual voice prompts and enhancements for ease of use. The enhancements include new wind noise reduction algorithms and more. The new SmartAudio technology promises to reduce background noise by up to 40% compared to existing noise cancellation technologies. Broadcom promises that a headset using the new SoC could run for more than four hours after a short 5-minute recharge. The new SoC family is sampling to manufacturers now.