British education supplier launches re-branded Eee PC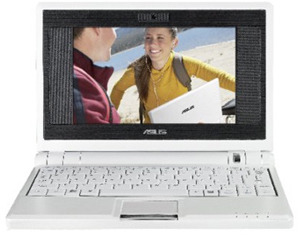 We've been hearing about the Asus Eee PC for some time now. It appears that a British education supplier will be making the laptop available in the UK under the name of the RM Asus Minibook. At least no one will have any trouble pronouncing that name.
The newly-named RM Asus Minibook will have the same set of features as the Eee PC. You can expect the same 7-inch screen,  256MB or 512MB of RAM, 2GB or 4GB of SSD and a 900MHz Intel Celeron Processor. You'll also have a webcam, WiFi and the option of getting a 3G card.
The low-end model will set educational buyers back £169 for the low-end version and £199 for the high-end model with 512MB RAM and 4GB of SSD storage when they launch next month. If you want one for personal use, it'll cost you an extra 17.5% VAT. That's around $475 for the high-end model. For that kind of money, I'd go with a different laptop that's got a little more to offer.
British firm launches £169 laptop [via pcpro]