Brightest X-ray laser gets stronger with an upgrade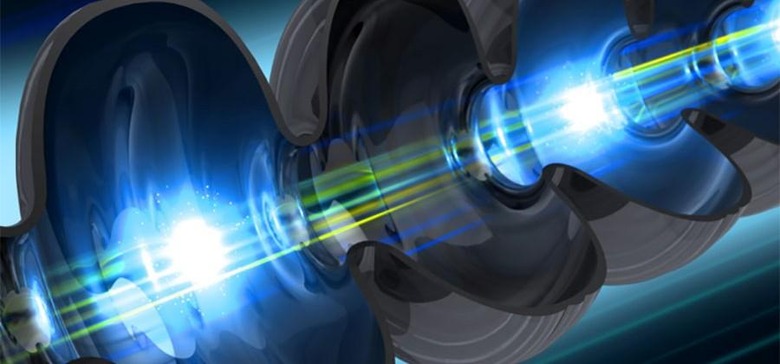 One of the most powerful x-ray lasers in all the world is getting a serious upgrade that will boost its power even further. Construction on the laser upgrade began a few days ago at the Department of Energy's SLAC National Accelerator Laboratory. The construction project will see the addition of a second X-ray laser beam that is an average of 10,000 times brighter than the first laser and 8,000 times faster.
The upgraded laser is able to pulse at up to a million times per second. The laser upgrade project is dubbed LCLS-II and will be used for experiments aiming to improve our understanding of how nature works on atomic level and on ultrafast timescales. "LCLS-II will take X-ray science to the next level, opening the door to a whole new range of studies of the ultrafast and ultrasmall," said LCLS Director Mike Dunne. "This will tremendously advance our ability to develop transformative technologies of the future, including novel electronics, life-saving drugs and innovative energy solutions."
The original LCLS opened six years ago as a DOE Office of Science User Facility and was the first light source of the type used in an x-ray microscope, it had the fastest and brightest x-ray pulses ever made. The facility is used by hundreds of scientists per year to observe fundamental processes of nature in detail.
The new x-ray laser will work alongside the existing laser and each will occupy a third of the SLAC's 2-mile long linear accelerator tunnel. The new laser can capture more data in less time enabling even more experiments to be performed at the facility.
"The upgrade will benefit X-ray experiments in many different ways, and I'm very excited to use the new capabilities for my own research," said Brown University Professor Peter Weber, who co-led an LCLS study that used X-ray scattering to track ultrafast structural changes as ring-shaped gas molecules burst open in a chemical reaction vital to many processes in nature. "With LCLS-II, we'll be able to bring the motions of atoms much more into focus, which will help us better understand the dynamics of crucial chemical reactions."
SOURCE: Stanford