BrailleTouch app makes smartphone texting possible for the visually impaired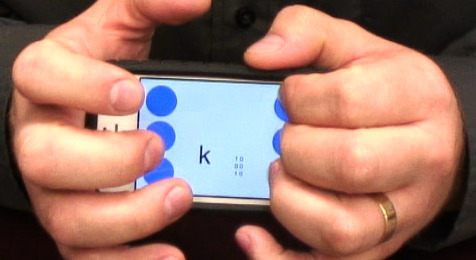 Researchers at Georgia Tech have developed a mobile app called BrailleTouch that makes eyes-free texting possible for the visually impaired. The flat sleek screens of today's smartphones don't offer the tactile surfaces needed by traditional Braille systems, but the BrailleTouch app offers a solution.
The BrailleTouch app features three buttons on each side of the screen with the device held facing away from you. No matter what orientation you hold the device, the BrailleTouch buttons will align accordingly. The six buttons represent the six-dot code used by Braille for the English alphabet.
As you type, the app reads out each letter. According to early research, users have been able to type at speeds up to 32 words per minute and still maintain a 92 percent accuracy. The app also suggests the possibility of eyes-free typing even for those with sight, but the researchers do not recommend the technology as something to be implemented in a way that drivers may be able to text while keeping eyes on the road.
[via NewsWire]