Bracketron MetalDock Is Angularly Simplistic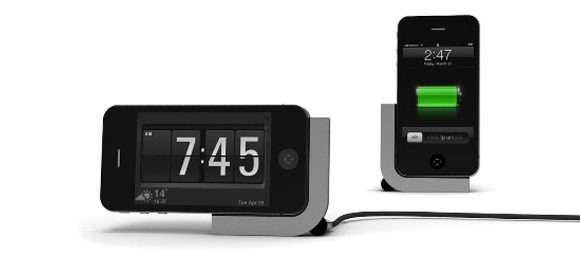 If you need a new docking station for your iPhone and don't want anything big and bulky, Bracketron's new MetalDock might be perfect for you. The docking station is a simple L-shaped holder that can be used in portrait or landscape modes. The dock is made from heavy-duty metal construction and is about as simplistic as a dock can get.
The dock looks very much like the metal trim on the recent iPhone devices and has integrated USB power cable for charging. The cable is 3 feet long and works well with iPhone alarm clock apps. The device will launch in June for $34.95. It appears that the attachment of the charge cable is what props up the charging station, and a standard Apple sync and charge adapter is on the lower angle of the metal "L" structure.
Bracketron is also showing off a small mushroom shaped wall charger called the Mushroom GreenZero charger. Not only does this charger have a quirky design, but it's eco-friendly and can detect when a device is fully charged or unplugged and automatically shut itself down to consume zero power. It has an integrated Apple charging cable and will sell for about $30 when it launches.