Brabus Rocket 900 Desert Gold Edition makes 885 lb-ft of torque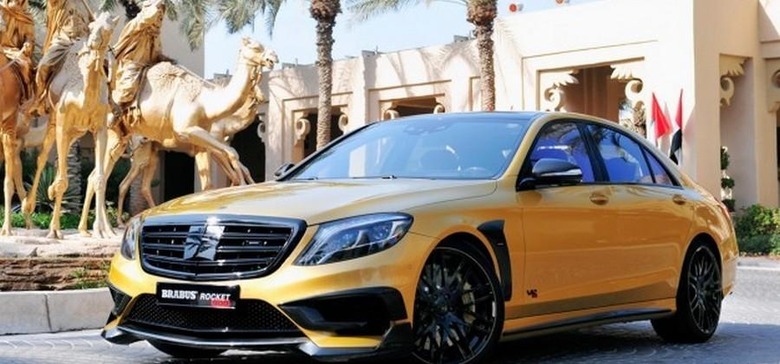 If ever a car was appropriately named, it's the Brabus Rocket 900 and a special edition of the car called the Brabus Rocket 900 Desert Gold Edition has debuted in Dubai. To live up to its name as a rocketship, the car packs 888hp and 885 lb-ft of torque under the hood. The mill making all that grunt is a twin-turbo V12 engine.
The outside of the Desert Gold edition is a yellowish gold color and incredibly tacky gold trim abounds on the interior. It's exactly what the movies would lead us to believe a wealthy Middle Eastern oil tycoon would drive. The torque is limited to 885 lb-ft to prevent the car from destroying its driveline.
Left unchecked, the car makes 1106 lb-ft of torque. Brabus claims the car will reach a top speed of 217 mph. The car can rocket form a standstill to 62mph in 3.7 seconds according to Brabus, but traction seems an issue.
To get so much power from the engine Brabus uses larger compressors and turbines for the turbos and a larger downpipe along with a new air intake. The car also has a limited slip differential. The seats have custom black and gold leather and even the pedals are gold.
SOURCE: Car & Driver