Brabus creates off-road supercar packing 700hp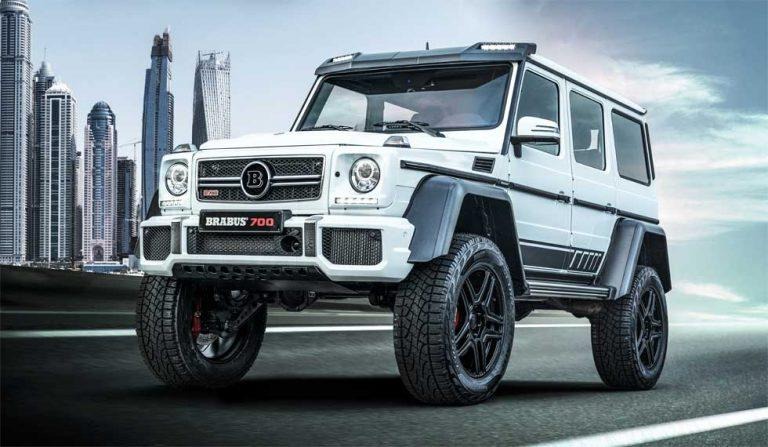 Brabus has a long history of creating modified Mercedes cars and SUVs that are even faster and wilder than the AMG versions of the Mercedes rides they are based on. Such is the case with this new Brabus 700 4x42 SUV that is based on the hopped-up version of the Mercedes G 63 off-road luxury ride. Brabus says that this vehicle will be built in a limited edition of only ten units.
All ten will be in black or white colors with axle conversion to make the vehicle more off-road capable. Brabus converted the base G 63 to portal axels that work with a multi-adjustable Brabus unique suspension to provide up to 60cm of ground clearance. The suspension and axles also promise excellent front and rear axle articulation.
Power for the vehicle comes from a 5.5L twin-turbo V8 engine that uses Brabus performance upgrades to raise power to 700hp and 708 lb-ft of torque. That much grunt puts the heavy, lifted vehicle to 62mph in 5.0 seconds. Top speed is limited to 130mph because of the off-road tires.
Other modifications include carbon fiber fender flares, carbon fiber roof spoiler, and LED daytime running lights. Brabus will optionally fit the ride with a custom-made leather interior crafted to owner preferences. Brabus says pricing starts at 209,000 euros excluding VAT, or about $238,000.
The special adaptive suspension has five drive modes including comfort, sport, off-road, and individual. All are controllable with the Brabus touch control panel. While the chances of these rides ever seeing off-road use is slim, Brabus does fit the vehicle with skid plate elements for protection.