Brabus Business Lounge van is a luxury apartment on wheels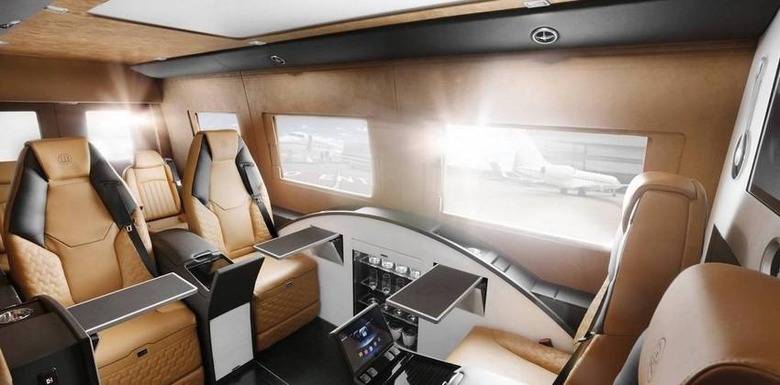 Brabus, the performance auto tuning outfit from Germany, seems to have taken a break from supercharging Mercedes' AMG sedans and has come up with a Business Lounge van, a ridiculously luxurious ride based on the Mercedes-Benz Sprinter. While the exterior design might be a bit tame compared to Brabus standards, the real attraction is inside, where riders will find enough high-tech comforts and plush seating arrangements to want make the vehicle their new home.
Upon first glance inside, the most prominent feature is the four leather-covered face-to-face seats, clearly aimed at business types who need to hold conferences while on the road. But even better is that each seat can be reclined and adjusted from a control panel, along with tables that fold down over the lap, perfect for placing a keyboard on to work with the built-in tablets.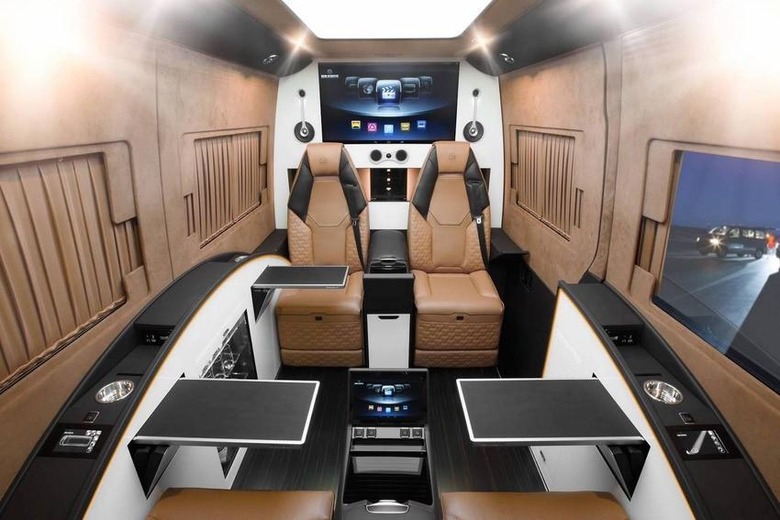 If there are more than four people in a rider's entourage, there's still a third row of seats towards the back.
When it comes to entertainment options, the Business Lounge pulls out all the stops. In addition to the tablets, there's a large LCD TV installed inside, capable of playing movies, video games, and conference-related presentations.
Feeling thirsty after all that important on-the-go business? Brabus has installed not only a wine/champagne cooler, but a coffee machine as well. And riders can enjoy that drink by setting the mood with customizable ambient lighting.
As for the exterior, Brabus' modifications include a new front bumper and 18-inch Monoblock wheels. Unfortunately there's no details yet about when the Business Lounge might be available or what it would cost, as it seems to still be a concept. However, it's expected that most of us wouldn't be able to afford one.
VIA Mashable