Boxee 1.5 releases as final version for desktop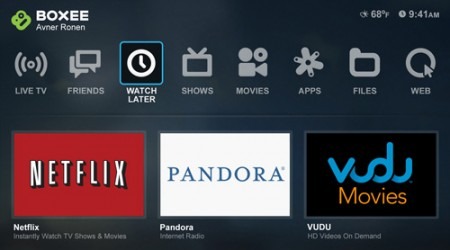 Boxee's newest 1.5 update today essentially marks the company's transition from focusing their media-streaming service on the desktop, to that of devices. With that said, the app comes with a newly revamped interface, that provides faster access to the browser and the menu appearing as an overlay, along with an easier to access search function. The movie and TV sections have also both been updated, given more effortless navigation by genres and sources, and making it easier to check for previously unwatched video episodes.
The app is available for download on Macs running Snow Leopard or newer OSes, Windows XP or later, and Linux boxes running 32-bit Ubuntu 11.10 or later. The 1.5 release marks the final desktop version of Boxee, and will be pulled after late January rolls around, when the interface arrives on Boxee's own hardware with the Live TV Tuner add-on.
Boxee explained that the decision to put the desktop app to rest was an expectation that TV was increasingly more likely to be driven by dedicated TV hardware, as opposed to makeshift rigs composed of computers hooked up to television sets. SlashGear readers, what're you thoughts on this topic? Feel free to leave thoughts in the comment section below.
[via Engadget]