Boxed video games are getting "in-game purchase" warning stickers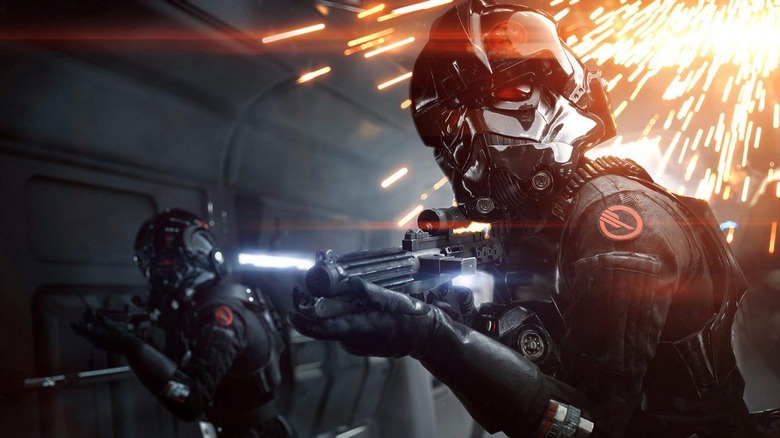 Lootboxes and in-game purchases have become a sad reality in modern video games. What was once merely the domain of free-to-play games on mobile, these in-game purchases have made their way into full priced, triple-A titles as a way for publishers to make more money from the games they put out. Though some will argue that lootboxes and in-game purchases are okay when they're limited to cosmetic items that don't give players an in-game advantage, we've lately been seeing publishers become much more bold in their implementation.
Today, the ESRB announced that it's going to start spreading awareness about which titles offer in-game purchases. The self-regulatory organization will begin attaching an "In-Game Purchases" label to physical games that offer such purchases. We'll also see these new labels pop up "wherever those games can be downloaded," so expect the ESRB to point these titles out on digital storefronts like Steam, PSN, and Xbox Live.
It isn't just lootboxes that the ESRB is calling out with this new label. This label actually seems to cover the whole range of in-game purchases, be it lootboxes, DLC, or in-game currency. Here's the organization's full description of what's covered by this new label:
The new In-Game Purchases label will be applied to games with in-game offers to purchase digital goods or premiums with real world currency, including but not limited to bonus levels, skins, surprise items (such as item packs, loot boxes, mystery awards), music, virtual coins and other forms of in-game currency, subscriptions, season passes and upgrades (e.g., to disable ads).
Anyone who purchases video games regularly will already be familiar with what the ESRB does, as it assigns age ratings to nearly every video game released at retail here in the US. This new label will sit alongside those age labels, helping parents better determine if a certain game is right for their children. To expand on the new In-Game Purchases label, the ESRB will also be launching a new site called ParentalTools.org, which will feature explanations of its ratings and instructions on how to set in-game parental controls.
There's no specific launch date for this new label yet, but the ESRB says that we should begin seeing it in the "near future." Whether or not it will any have any noticeable effect on the state of in-game purchases in modern video games remains to be seen, but at the very least, it could help gamers make more informed purchasing decisions, and that's the entire point of the ESRB in the first place.