Box spreads cloud to Windows Phone and inks Qualcomm preload deal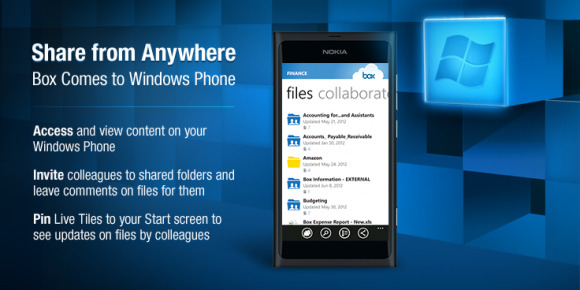 Box has been available on iOS and Android for quite some time, and now the cloud storage app has made the jump to Windows Phone. The company took to its blog to announce the latest addition, which offers the same functionality you'll find elsewhere but gussied up in a beautiful Metro interface. There are a couple of features exclusive to Windows Phone, however, such as live tiles and starting slideshows for images directly within the app.
Otherwise, everything is as you would expect. Users can manage their content from within the app, upload, share, and delete files and folders, search your contents, and password protect everything to hide content from nosy individuals. First time users signing up for Box are granted 5GB of free storage, but the company has announced a partnership with Qualcomm that will see certain devices gain 50GB of free storage.
The partnership will extend to Android and Windows Phone devices with Qualcomm's chipsets, although Box didn't go into specifics about which devices will see the bundle. It's a move that mirrors one made by Dropbox, who has partnered with HTC and Samsung to deliver free cloud storage of their recent flagship devices. The American Galaxy S III variants, however, didn't see the same promotion.