Box packages the cloud for iPad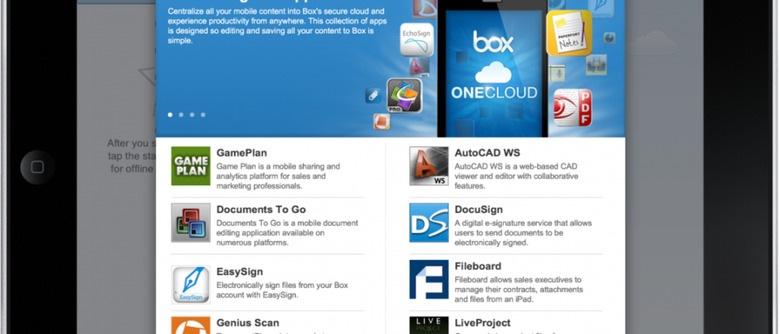 Whether you like it or not, companies are making a big push for cloud storage and applications going forward. Apple has iCloud, HTC recently shut down HTCSense.com promising a revamp in the near future, and now Box have unveiled their latest plans. The company will be offering Box OneCloud, showcasing over 30 applications designed to work with the Box service.
Box will now add a cloud button to the main application. Clicking it will reveal what apps on your device are compatible with Box, and also offer suggestions of what apps you can download that will integrate correctly with Box.
Meanwhile, the company will be offering four "premier" apps with the tightest Box integration that will update content instantly on Box servers. Partners include Quickoffice, Adobe Echosign, Nuance PaperPort Notes, and PDF Expert. Each app offers a business oriented feature and compliments Box's cloud storage capabilities, like document editing, and PDF annotation.
Box will also be opening up their framework to allow app developers to work Box integration into their own apps. Developers will be able to use specific tools in order to access Box's file management system in the cloud. Box OneCloud is available for iOS today, with an Android app coming in the future.