Bowling Central update adds Apple Watch as motion controller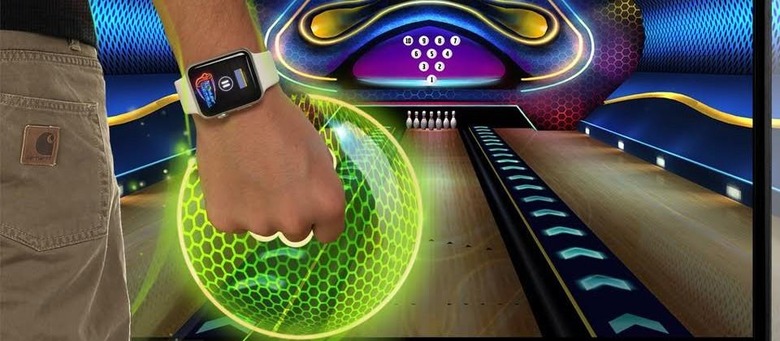 Love bowling but hate having to wear those funny shoes? The Wii has been the long-running champ among alternative bowling methods, but those who own an Apple Watch will soon have another option. Rolocule Games has introduced the 2.0 version of its Bowling Central game for Apple users, and with the update comes Apple Watch support, allowing the wearable to be used as a sort of motion-based game controller. Presently Bowling Central has been available for the iPhone and iPad for use with the Apple TV, and is akin to the company's previous Motion Tennis game.
It's all pretty straight forward. Apple will be pushing out watchOS 2 soon for its wearable, and with it comes more access for developers. Rolocule Games is leveraging that access to expand its Bowling Central game, using the Apple Watch's accelerometer to have it function as a motion controller for the bowling app.
Stand in front of the game and swing your arm like you're throwing a bowling ball. It will send the virtual avatar of the ball whizzing down the lane into a set of pins. Such is the world of modern sports. Ahead of this Rolocule has nixed the Bowling Central price tag, making it free instead of $2.99 USD.
Version 2.0 of the game also brings 45 new levels, a local multiplayer mode (up to four people can play), a pair of new power ups called Freeze and Bumpers, as well as some improvements and small bug fixes. You can get it on the Apple App Store now.