Bose SoundDock 10 hits street at $599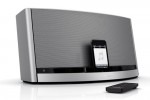 Bose is a big name in the speaker market for home theater, home and car stereo equipment. The technology that Bose uses tends to get audiophiles lining up in camps that love and camps that hate the sound produced. Bose has announced its new SoundDock 10 speaker system for iPod.
The SoundDock 10 uses a single enclosure with a small footprint and an elegant design to deliver full sound that offers deep bass and sound levels typical of much larger systems. The SoundDock 10 measures 9" H x 17" W x 10" deep and uses a new version of the Bose waveguide technology.
The waveguide in the SoundDock 10 has been reduced from 75" to 52" without impact the sound produced by the system. The dock also has a new woofer design with four times the efficiency of a conventional woofer according to Bose. The downside the high-tech device is that it is expensive at $599. The dock is compatible with the iPhone, iPod touch, and any other iPod with a click wheel. Other players and iPods lacking a click wheel can be connected via an aux input.