Borderlands 3 DLC plans sound very familiar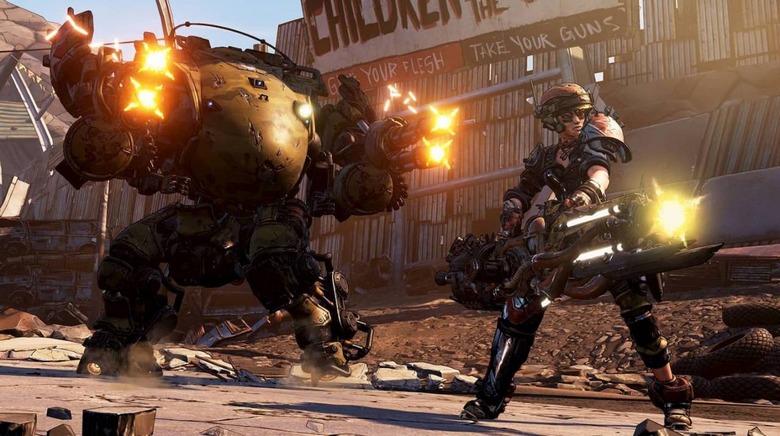 Today was a big day for Borderlands fans, as Gearbox and 2K finally gave us a long-awaited look at how the game will play. There weren't a ton surprises since Borderlands 3 looks plenty like the games that came before it with some extra features and quality of life improvements, but gameplay wasn't the only thing Gearbox talked about during today's event. The company confirmed that Borderlands 3 will be getting DLC after release, and if you've played a Borderlands game before, you already know what to expect.
Both the original Borderlands and Borderlands 2 ended up receiving four DLC campaigns by the time development wrapped. Borderlands 3, as it turns out, will follow a similar post-release content structure, with four DLC expansions of its own planned.
Gearbox confirmed these plans to VG247 today, noting that Borderlands 3 will also have raids and events for players to partake in aside from the DLC expansions. While it seems safe to assume that the events will be free for everyone to play, we're left wondering if raids will be offered as DLC. In Borderlands 2, many of the raid bosses were included in those four DLC campaigns, so we might see Gearbox do something similar in Borderlands 3.
While Gearbox didn't get too specific about its post-launch plans, it did say that we'll learn more about BL3's endgame content at E3 in June. Borderlands 3 lead boss designer Matt Cox told VG247 that there will be plenty of endgame content to tackle, which is definitely reassuring despite the fact that he couldn't dive into specifics.
We'll have those details for you when Gearbox decides to share them, so stay tuned for that. Borderlands 3 will be out on Xbox One, PlayStation 4, and PC on September 13.