Boot your Vista in 4 seconds!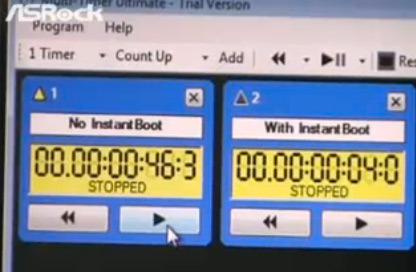 The Taiwanese motherboard maker Asustek has came out a new gimmick called Instant Boot that claimed to cut Windows booting process down to 4 seconds! The new technology uses the S3 and S4 states of the Advanced Configuration and Power Interface (ACPI) that enabling Windows Sleep and Hibernation modes to put user system into sleep mode when shutting down then bypassing the bios process while booting up.
Yeah, it's nothing breathtaking, the feature utilizes and twists the same old technology into more user-friendly way. Remind me of my trustworthy Vmware fusion in suspect mode, shut and boot under 3 seconds. But the Instant Boot will also only work on Windows systems running XP or Vista with a single-user account and no password protection.
As seen from the rather cheesy video demo, the UI is rather simple : Fast mode uses S3 and boots up in four seconds while the less aggressive regular mode uses S4 and takes about 20 seconds to boot.
Still in early its development but the company has released bios to enable Instant Boot on company's budget wing AsRocks' boards that are built upon AMD's 780G and 790GX chipsets, and Intel's P45 and P43 chipsets.