Booq Mamba Shift L Backpack Review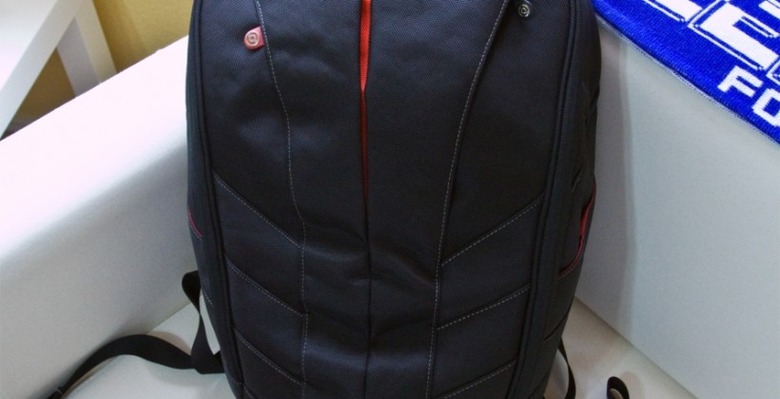 Laptop bags aren't exactly glamorous, but the Booq Mamba Shift L manages to squeeze a little style into its otherwise sober appearance. The slash of red down the centre gusset, the armor-like segmented side panels and the almost tear-drop shape add up to a handsome, discrete way to carry your laptop along with everything else. Of course, the true test of a good bag is not just how well it manages to swallow your belongings but how easily you can then retrieve them; is the Mamba Shift a case of form over function? Check out the full SlashGear review after the cut.
Booq rate the Mamba Shift L as suitable for up to 17-inch laptops, and our 15-inch MacBook Pro certainly slotted into the notebook compartment with no problems. There's plenty of padding, both between your back and the laptop and then again sandwiched between the notebook compartment and the outer pocket. It's this outer pocket that takes some exploring before you realise exactly how flexible the Mamba Shift really is.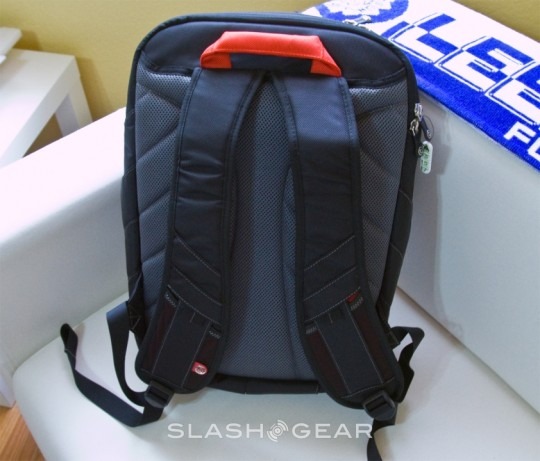 For a start, it opens wide for easy access. While the zippers go pretty much all the way round three edges of the bag, there are mesh panels which stop it from yawning open completely; if you've ever tried to open your backpack wide and found half the contents fall out, then this design should be appealing. Inside the Mamba Shift is lined in bright red nylon, and both sides are covered with pockets and pouches. As well as a CD-sized mesh pouch at the top – well placed for dipping your hand in and grabbing often-used items like memory sticks – there are larger, segmented pockets for pens, peripherals like mice and camera lenses, and elasticated pouches to keep AC adapters tightly constrained. As well as the full-depth centre section, there's a separate magazine section for documents, and Booq throw in a detachable accessory pouch – with a zipper – handy for pens and other small objects.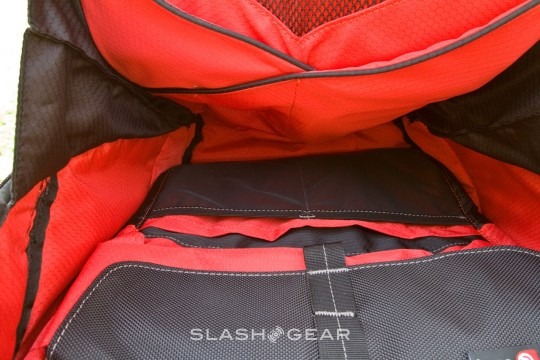 On the front of the bag there's a reasonably sized zipped pocket, plus there are slots on either side of the Mamba Shift to take maps, pens and other readily-accessible objects. Similarly, pockets on the shoulder straps are well placed for your cellphone or PMP, and an iPhone 3GS slots in no problem.
Also inside the main compartment is the Terralinq tag, a uniquely-coded label which – if you register the Mamba Shift online – means that should your lost bag be found by someone honest, they can find your address and/or contact details to hopefully return it to you. Whether that actually happens is up to the person who comes across it, of course, but it's a straightforward way of tagging your bag without having to physically write on your name and number.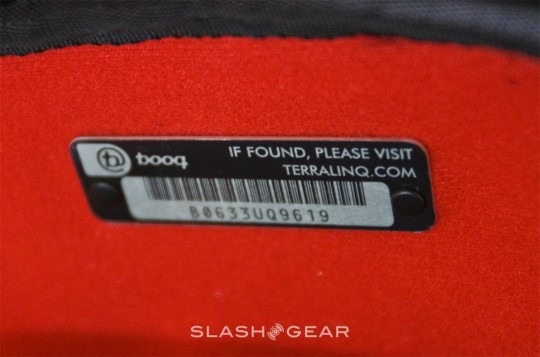 If we had any criticism of the Booq Mamba Shift, it's that it might be perhaps too ambitious. Given the number of pockets, slots and nooks inside and out, it's tempting to pack more than you actually need; then, when you try to close up the main section, it can be tricky getting the contents to mesh together. Still, again, you can't really blame Booq for giving so many options. Meanwhile, although the Mamba Shift's nylon fabric gets a water resistant coating, we'd like to see covered zippers to hopefully avoid any errant drips making it through.
Still, they're small complaints about what's a very practical bag. At $149 the Booq Mamba Shift L isn't cheap, but the construction quality is strong and there are almost too many options for packing it. If you're headed to a tradeshow and require a laptop, a camera and the various peripherals, connectors, adapters, card-readers, cables and general detritus that somehow manages to be essential carrying, the deceptively capacious main compartment will take it all.