Boba Fett Purse Launches For Discerning Fashionistas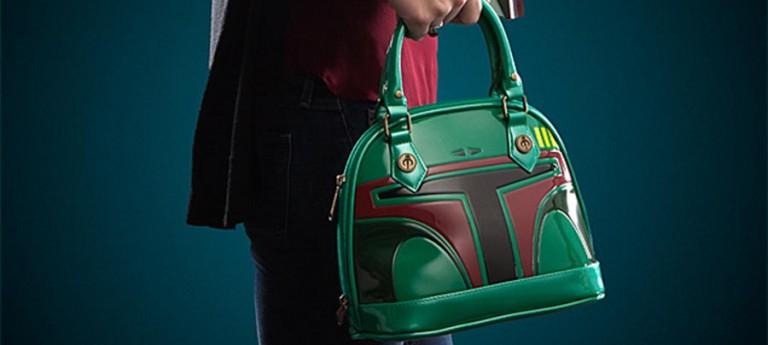 Is there a notable lack of green purses in your closet? If so, ThinkGeek has a new item that'll fill that hole: a leather purse styled to resemble Boba Fett from Star Wars. The purse itself comes from Loungefly and features a shiny finish over bright green sections of embossed faux leather. Even better, says ThinkGeek, it includes little feet on the bottom so it won't stick 'to the movie theater floor.'
The purse is an officially licensed Star Wars product bearing the SW logo and Boba Fett's helmet design. The face is situated outward, crafted from fake leather designed to look real. The walls are described as rigid and the interior as "moderately spacious," with the bottom tapering out wider. A pair of handles are fixed to each upper side with a 3-inch drop.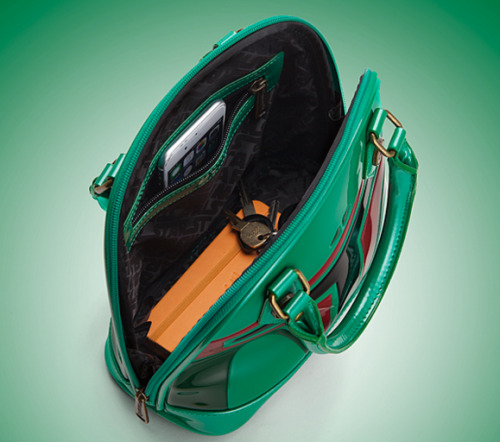 The feet on the bottom are chrome (metal); there are a pair of interior pockets for keeping things organized, and the lining itself has what is described as a "subtle tone-on-tone Star Wars logo." You won't be able to fit your laptop inside it, but the purse is somewhat generously sized.
The interior dimensions are 9 x 8 x 4.5-inches, large enough for a book and your most essential gadgets. The exterior dimensions are half an inch larger in width and depth. The purse is available to order now for $69.99 USD. Check out the timeline below for other Star Wars news!