BMW i8 with 2.0L, turbocharged 4-cylinder, 450HP said to be in works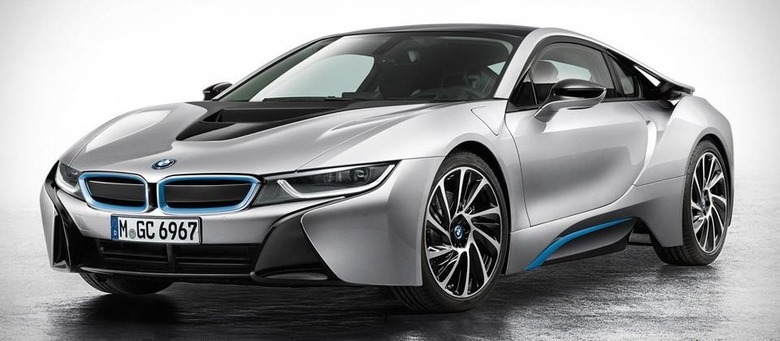 BMW's i8, the incredible-looking plug-in hybrid, is believed to be getting a more powerful sibling in the near future, according to Auto Express. While we shouldn't be expecting anything with the "M" performance badge, the publication's sources say BMW's engineers are eager to show what an "i" can really do with its lightweight carbon fiber body. The main changes are said to be a bigger, more powerful engine, ditching the rear passenger seats, and a slightly more sporty design, possibly with a spoiler.
First up, the engine. Replacing the current i8's 1.5-liter, three-cylinder would be a 2.0-liter, turbocharged four-cylinder. This would greatly increase the car's weight beyond the 1,485 kilograms (3,273 pounds) it sits at now, so BMW would try to re-balance things by leaving out the rear seats, as well as not painting any carbon fiber panels. The goal is to see a total of 450 brake horsepower, much more than the current 300 HP.
It's been made clear that this model will not feature a name like "M8" or "i8M," as BMW intends to keep their performance and eco-friendly divisions separate. Rumors of a pair of souped-up i8s also surfaced last fall, with one model featuring nearly similar spec improvements as mentioned above, and another, even hotter "i8S" with a 3.0-liter straight-six and roughly 480 HP.
However, it seems that BMW does have plans for something to feature the "M8" name, and it's likely to be the idea behind that "S" model. There has been other talk that an M8 would resemble the i8's stylish design on the outside, but on the inside be a gasoline-powered beast.
SOURCE Auto Express