BMW i8 plug-in hybrid sports car costs over $135,000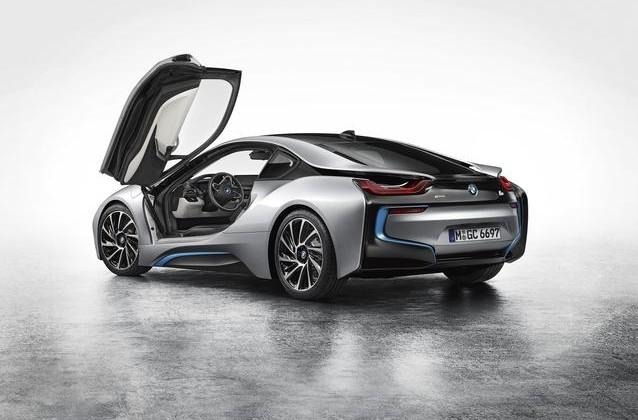 BMW officially unveiled the i8 plug-in hybrid 2+2 sports car at the 2013 Frankfurt Motor Show this week. BMW calls the vehicle with the most anticipated cars in history, I think that's a bit of a stretch but it's a cool hybrid sports car nonetheless. The vehicle will cost $135,925 including destination handling.
BMW says that i8 will be in showrooms in US by the spring of 2014. BMW equips the vehicle what it calls LifeDrive architecture that was developed specifically for the BMW i. That includes the Life module passenger cell made from carbon fiber reinforced plastic. The drive system uses high-voltage batteries along with structural and crash functions integrated into the aluminum Drive module.
The vehicle weighs 3285 pounds and has a low center of gravity. BMW says it also designed the vehicle to have a balanced weight distribution. The doors of the i8 open upwards like wings and the vehicle is fitted with full LED headlights as standard and laser headlights are available globally where regulations allow them. The plug-in hybrid powertrain uses a three-cylinder gasoline engine with the BMW TwinPower Turbo system.
The engine displaces 1.5 L and produces 231 hp along with 236 pound-foot of torque. That engine power is sent to the rear wheels via a six-speed automatic transmission. The drivetrain also has a model specific hybrid synchronous electric motor producing an additional 131 hp and 184 pound-foot of torque. Output from the electric motor goes to the front wheels via a two-stage automatic transmission. The lithium-ion batteries are liquid cooled and have a usable capacity of 5 kWh. The vehicle offers different driving modes with electric range of 22 miles at a top speed of 75 mph. The other modes include comfort, providing a driving range of 310 miles, Sport, and Eco-Pro.
SOURCE: BMW News