BMW expands 530e inductive charging pilot program to the US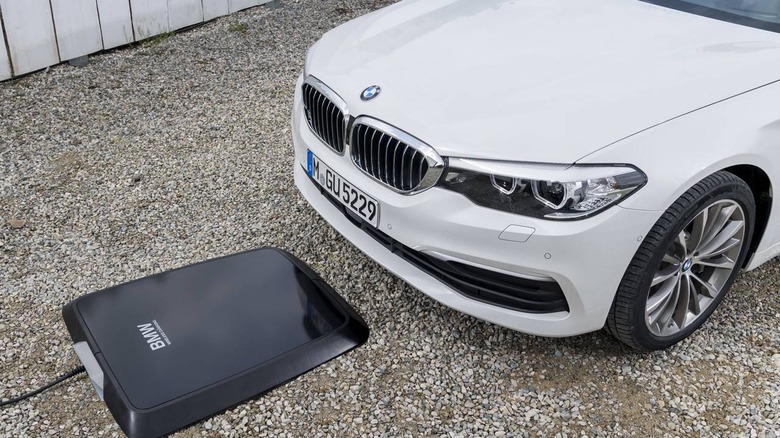 BMW has been operating an inductive charging program in Germany and other parts of the world since 2018. The automaker has now expanded the inductive charging pilot program to the US. The pilot program is kicking off in California for 200 interested, qualifying residential home customers who are able to charge inside an enclosed garage space.
The availability for the program was based on 200 equally equipped 530e program lease vehicles. To qualify for the pilot program, the users also had to have a garage and qualifying local electrical grid. Once the participants were approved, the users had to go to one of 33 participating California dealers to complete the 36-month lease of the 530e sedan.
The home portion of the charger is installed by Qmerit. BMW says that for the pilot program, all costs, expenses, and expenditures with the initial installation, maintenance, and de-installation of the Ground Pad module are covered by BMW. Participating BMW dealers cover 13 counties in California including San Francisco, San Mateo, Contra Costa, Alameda and Sonoma counties in Northern CA and Orange, Santa Barbara, Los Angeles, Santa Clara, Ventura, Riverside, and San Bernardino counties in southern CA.
The pilot program BMW Wireless Charging system allows power to be transmitted via an installed GroundPad to the vehicle's battery without any cables when the car is positioned above the induction base. The system allows the driver to pull into the garage and park over the GroundPad, and charging happens without further input from the driver.
The vehicle has a CarPad portion that is affixed to the underside of the car. The power transfers wirelessly over a distance of about three inches using magnetic induction. The charging system has power generation of 3.2 kW, enabling a full charge of the 530e battery pack in about 3.5 hours at an efficiency of around 85%.