BMW C1-E electric scooter reinvents the motorcycle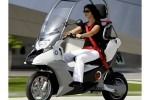 I grew up riding dirt bikes and one thing I can say for sure is that when you do something stupid, the last thing you really want is to be tied to the bike. Those things are heavy when they land on you. BMW has reinvented the scooter and revived a dead product from 2000 with a bike called the C1-E electric scooter that has a roof and a seat belt.
The scooter is a fully electric job with no emissions that gets the power it needs to scoot you around town from a 125V lithium-ion battery. The electric motor provides 27 horsepower, which should be plenty for a lightweight vehicle.
BMW promises the scooter will be able to hit 80kmph in only seven seconds and top out at 100kmph. From looking at the pictures it seems that the bike is designed so that in the event of a crash, the rider is surrounded by a frame and roll bar. The seatbelt will keep the rider on the bike. The big flaw I see is that your hands, arms, and legs will be exposed but the good news if your head shouldn't hit the ground. There is no word on pricing or availability at this time.