BlueAnt z9 Bluetooth Headset Reviewed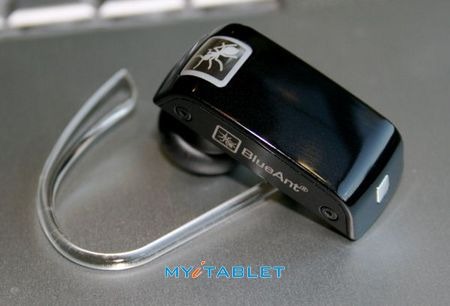 Our own Vincent (Chase?) Nguyen got the pleasure of reviewing this Bluetooth headset and gave it a 4.9/5. So what warrants such a highly esteemed review from Vincent and a CES 2007 Innovations Design and Engineering Award?
Apparently Bluetooth headsets with near-perfect call quality on both ends and a sleek, cool design. He tested the device both with an iPhone and a Blackberry 8830 World Edition, the former from AT&T and the latter from Sprint. The pairing is the best part, you can pair it with up to three devices, and only have to despair it from one device in order to connect a new one.
A simple push of a button allows you to switch from on device to another, which keeps it easy, the only hard part would come when you tried to remember which device it was currently paired with and what the order of the devices was. There is also a couple of other neat features, namely the translucent ear hook that instead of being a clip on, it slides through, not only making it more adjustable, but also preventing it from breaking off while in your pocket. The second is the clip that allows you to attach the device to a tie, cuff, or other article of clothing while not in use.
https://www.youtube.com/watch?v=gJqgob9euXY
The sound isolation and the comfortable earpiece make it comfortable to use all day, and, in fact, poor Vincent did just that. There is also enough battery on a single charge to last 5.5 hours while talking or 200 hours in standby. Its available now from the MyiTablet store for $99.95.
My iTablet Review: BlueAnt z9 Bluetooth Headset [via MyiTablet]