BlueAnt S3 Compact speakerphone lets drivers go hands free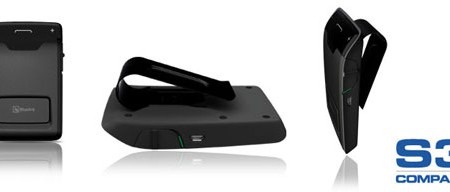 When you are driving down the road in your city or traveling in your car a lot, many of the areas you drive though might have laws that mean you need a hands free kit in your car to talk. BlueAnt has unveiled a new hands free speakerphone for the car called the S3 that promises nice features at a value price. The device will ship on Q1 2011 and sell for right under $80.
For that price, you get easy to use tech with audio guides stored on the device to walk users thought the paring process. It will announce the incoming name or caller ID of the number and allow the user to answer or reject using their voice. You can place calls with your voice if the phone you use supports voice dialing. The device has a sensor that will connect automatically as soon as you enter the car.
Other features include full-duplex audio, superior wind and noise filtration, and a hardware power on and off switch. It has a phonebook inside that can transfer 200 contacts per device. Multipoint tech allows the device to connect to two phones at one time. It also supports A2DP streaming ands has 20 hours of talk per charge with 600 hours of standby.