Blue Raspberry USB mic works for PC, Mac, iPhone, and iPad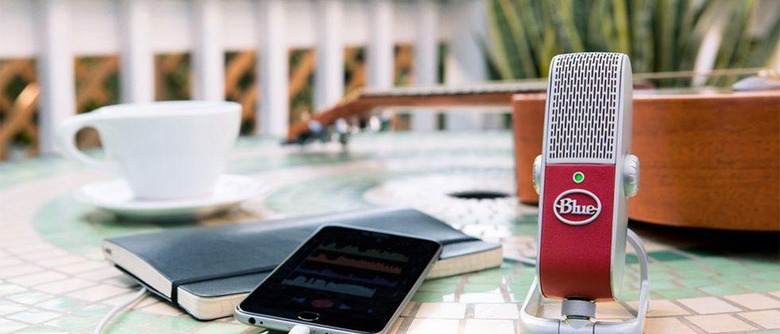 When it comes to recording, the spoken word digitally Blue has been making microphones for a long time that aim directly at podcasters and other recording artists. The company has a new microphone that is aiming directly at the mobile recorders out there called the Raspberry.
The microphone has 24-bit studio-quality sound and will connect directly to the iPhone or iPad along with PC or Mac computers. Raspberry uses a new patent-pending Internal Acoustic Diffuser (IAD) design that is meant to resemble the treatment used in studios and concert halls. The IAD is meant to focus the voice or instrument and minimize the sound of the room by diffusing noise and reflections as they enter the microphone.
The mic has a headphone port allowing you to connect directly to it for monitoring and it is plug and play compatible. The headphone port has no latency so you hear exactly what is being recorded. The integrated microphone stand has a connection insulator and rubber shock absorbing feet to minimize handling noise and table rumble while recording.
A 1/4" thread mount allows the user to connect Raspberry to camera and video tripods for recording YouTube audio. Raspberry is designed to work with clarity of popular recording apps. It also has the Blue premium capsule circuitry and headphone volume control. A mic level and mute control is integrated and it comes with a suede carry pouch. Power comes from a USB or Lightning connector. Frequency response is 20Hz – 20 kHz and the mic weighs 167.1g and measures 39.5mm x 50.5mm x 123mm. Pricing and availability are unknown at this time.
SOURCE: Blue Mic