Blue Microphones unveils Yeti THX certified USB microphone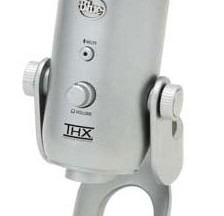 There are all sorts of uses for a USB microphone from voice chatting to conference calls and recording your personal podcast. Blue Microphones makes some of the best USB microphones available and the company has announced its latest offering called the Yeti.
The Yeti is the world's first THX certified USB microphone. The certification ensures that the mic has fantastic recording and playback capabilities. Blue also reports that the Yeti is the first USB mic to offer the firms premium condenser capsules in a proprietary triple capsule array.
The special array allows the mic to offer four patterns including omni, cardiod, stereo, and bidirectional. The mic also promises zero latency and has amplified headphone monitoring, mute, and hardware gain adjustments. The Yeti will be available in December for $149.99.