Blu Studio C Series debut ushers in four new smartphones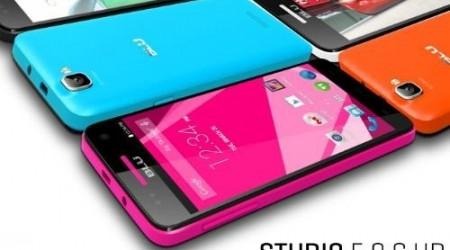 Blu, maker of unlocked smartphones, has introduced a new product lineup: the Studios C Series. Ushering in this product line are four new smartphones, the Studio 5.0 C HD and Studio C mini, as well as the Studio 5.0 C and the Studio 5.0 CE. All four handsets are GSM-compatible.
First up are the Studio 5.0 HD and the Studio C mini handsets, both of which are available now through Amazon. Both smartphones are running a quad-core 1.3GHz processor and Android 4.4 KitKat. The mini is the smaller of the two, featuring a 4.7-inch display with 200ppi, a 5MP rear camera with LED, and a 2MP front-facing camera.
The Studio 5.0 C HD is a touch bigger with a 5-inch IPS display (294 ppi), also offering an 8MP rear camera and 2MP front-facing camera. The mini is priced at $119, and the C HD is priced at $149 USD.
Rounding out the launch is the Studio 5.0 C and the 5.0 CE, both of which offer a 5-inch display, dual-SIM, a dual-core 1.3GHz processor, and Android 4.4. The 5.0 C will offer 4G HSPA+ and a 5MP rear camera, being priced at $109 on Amazon. The 5.0 CE, meanwhile, doesn't offer the same 4G feature, and will be $89 when it starts shipping later this month.
SOURCE: PRNewswire