BLU Products Unleashes New Line With 4G LTE Support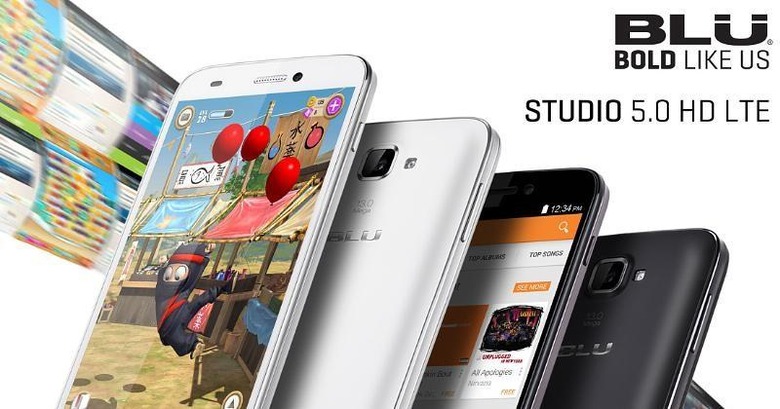 We may receive a commission on purchases made from links.
BLU has time and again outed several unlocked smartphones over the years, some even with enticing features and definitely enticing prices. But most of them sadly do not boast of 4G connectivity. Well, not anymore. These three new BLU smartphones do come with the LTE support you need for consuming lots of online data. And as an added bonus, these smartphones are powered by a Qualcomm Snapdragon 400, instead of BLU's usual preference for the more affordable MediaTek line of mobile processors.
The BLU Studio 6.0 LTE comes as the largest and top dog of the batch. As the name subtly suggests, it has a 6.0-inch screen with a Full HD resolution. This one is powered the higher end Snapdragon 400 MSM8928, running at 1.6 GHz. It has 2 GB of RAM and 16 GB of internal storage, expandable up to 64 GB more. It is also the more photography friendly of the three, with a 13 megapixel rear camera and a selfie friendly 5 megapixel on the front. The Studio 6.0 LTE runs Android 4.4 and is compatible with LTE bands from T-Mobile as well as MetroPCS and Tracfone.
The Studio 5.0 HD LTE is the "compromise between the two extremes of this line. The 5.0-inch display unfortunately only reaches HD resolutions. The processor is a slightly slower quad-core MSM8926 Snapdragon 400, which runs at 1.2 GHz instead. RAM and storage are also halved at 1 GB and 8 GB respectively. Happily, it does also run on Android KitKat and has the same 13 megapixel and 5 megapixel camera combo as the higher end Studio 6.0 LTE. And like that bigger smartphone, it is compatible with T-Mobile's LTE network, which includes MetroPCS and Tracfone's Simple Mobile.
The Studio Mini LTE is undoubtedly the least of the bunch. While it does have the same 1.2 GHz quad-core Snapdragon 400 and 1 GB RAM of the Studio 5.0 HD LTE, it comes at a smaller and lower 4.5-inch 854x480 screen. Storage is also halved again at 4 GB but still expandable up to 64 GB. The rear camera is now a lower 5 megapixel while the front camera is simply 0.3 megapixels. It comes with only Android 4.2.2 Jelly Bean by default but BLU notes that is upgradeable to KitKat. What the Studio Mini LTE lacks in hardware it makes up for in connectivity. In addition to T-Mobile, MetroPCS and Tracfone Simple Mobile, it is also compatible with AT&T and Cricket and networks on the 4, 7, and 17 LTE bands.
As always, BLU Products devices are available unlocked and at rather low prices. The Studio 6.0 LTE costs $279, while the Studio 5.0 HD LTE has a $199 price tag. the Studio Mini LTE isn't far behind at $119. All of them now available for purchase from Amazon.
SOURCE: BLU Products