BLU Products announces updates for its Vivo 4.3 smartphone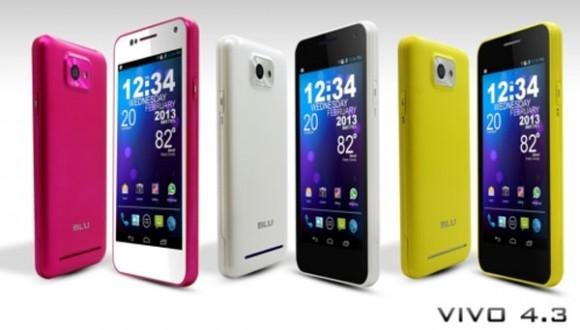 BLU Products has announced that it has made some improvements to one of its most popular smartphones called the Vivo 4.3. The smartphone is now available in three colors giving people more choices to match their personality. The phone is now available in yellow, Pearl white, and pink.
Along with the three new colors also comes an update for the Android operating system on the device. The update brings the smartphone to Android 4.1. The update is designed to optimize the user experience on the smartphone bringing faster performance, improved search capability, improved touchscreen responsiveness, and new intelligence features along with actionable notifications.
BLU says that it has also replaced its BLU launcher and now uses the stock Android software for all of its new products and firmware updates. That should mean new operating system updates can be available more quickly since the company won't need to tweak a custom user interface each time. The new firmware promises enhanced battery life and more improvements to the user interface.
The Vivo 4.3 smartphone has been around for a while in black. The phone has dual SIM cards, a 4.3-inch Super AMOLED Plus display with a resolution of 480 x 800, and 4 GB of internal memory. The smartphone also has an eight-megapixel rear camera and a 1.3 megapixel front camera. It also has integrated Bluetooth and Wi-Fi along with a one-gigahertz dual core processor.
[via BLU Products]