Blackmagic URSA 4K Camera Features 10-Inch Flip-Out Display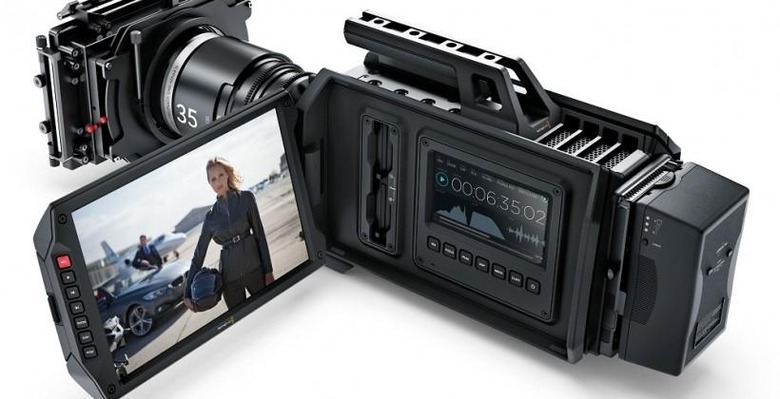 Among the cameras introduced at the NAB Show in Las Vegas, Blackmagic has introduced a new 4K professional camcorder that stands out, not the least of which is due to its massive 10-inch Full HD flip-out display. The camcorder was designed to look futuristic, and is machined out of aluminum.
The Blackmagic URSA PL and URSA EF offers a 4K Super 35mm sensor, as well as a global shutter and 12-stop dynamic range, making it akin to the AJA CION shown off this week. The design is deliberately made to be user-upgradable, allowing the sensor and lens mount to be upgraded.
There's support for recording in Apple ProRes HQ/422/LT/Proxy, with resolutions ranging up to Ultra HD, as well as Full HD 1080p in frame rates ranging from 23.98 to 60. Rounding out some the camera's more notable feature is liquid cooling for times video is recorded at high frame rates.
Said Blackmagic Design's CEO Grant Petty, "Our goal when developing the URSA was to build a camera that had all the cooling capacity for higher frame rates, and a large on set monitor as well as built in scopes so you had everything you need built into the camera itself. The problem with spending so much money building in such incredible accessories is that they become outdated as sensor technology moves on. So we designed the ability to upgrade the sensor so customers can simply bolt on a new sensor and turret assembly in the future!"
SOURCE: DPreview